Dr. Renis Kapshtica DDS - Washington, DC Cosmetic Dentist
Dr.Renis Kapshtica is committed to providing excellence in dentistry, and stands out as a leading dentist in Washington, DC. The doctor uses the latest in dental techniques to provide you with a beautiful and healthy smile. Additionally, Dr.Renis Kapshtica believes strongly in education to prevent oral health problems before they occur, and makes sure to keep his patients fully informed about their dental health. Read more about Washington, DC dentist Dr.Renis Kapshtica below.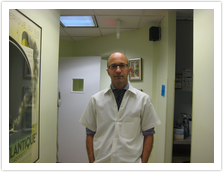 Renis Kapshtica, DDS
Dr. Renis Kapshtica was born in Tirana, Albania in October of 1976. He moved to the US in 1993 to attend high school. He graduated from West Windsor-Plainsboro High School in Princeton Junction, NJ in 1995 ( Sumna Cum Laude). He graduated with a BS degree in Biology from Florida Southern College in Lakeland, Florida in 1998 (Sumna Cum Laude). Dr.Kapshtica was raised in a family of physicians.His grandfather Dr. Reshat Kapshtica graduated from University of Michigan at Ann Arbor in 1933 and from University of Paris Sorbonne School of Medicine in 1939. He practiced as a surgeon in Albania. His father Dr. Rudi Kapshtica was an Oral and Maxillofacial Surgeon in Albania where he practiced for 42 years.
In 2003 Dr. Renis Kapshtica graduated with a DDS degree from Baltimore College of Dental Surgery at the University of Maryland at Baltimore. He continued his studies at BSDS where he completed a 2-year Advanced Education in General Dentistry Residency and was awarded the Harry Dressel Award for Clinical Excellence in General Dentistry in 2005. Dr Renis Kapshtica holds a Fellowship Award from Academy of General Dentistry and Mastership Award from International Congress of Oral Impantologist. He has completed the Implant Dentistry Training in Washington D.C in 2014. He has been living and practicing in downtown Washington D.C since 2004.
Dr.Kapshtica is a member in the following professional organizations:
1) Academy of General Dentistry
2) DC-Dental Society
3) American Dental Association
4) International Congress of Oral Implantologist
5) American Academy of Implant Dentistry-Study Club.